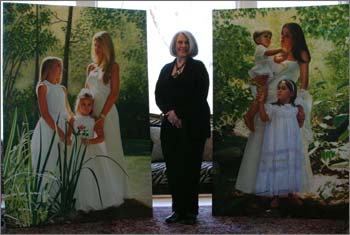 (Click Picture to Enlarge)
Constance Shoup Hudson studied fine arts at the conservatory at Rollins College and the Art Institute in Winter Park, Florida. She attended Florida Southern College in Lakeland, Florida, where she also studied fine arts. She has studied with nationally known artists including Gregg Kreutz, Richard Whitney and Clyde Burnette.
She is a "Member of Merit" in The Portrait Society of Atlanta, a "signature" member of The American Society of Portrait Artists, and a member of the Portrait Society of America. Among her awards is the prestigious "President's Award" of the American Society of Portrait Artists Festival of portrait competition.
Connie's work is elegant and realistic as she paints with extraordinary detail to bring out the classical realism her clients love. They cannot wait to frame the portrait, present it in the perfect place, and then show family and friends. She specializes in children, adults, family groupings as well as family pets.
When she paints your portrait there is no time table, no hurry or rush. She does one portrait at a time and maintains her focus from the first pencil sketch to the final client approval.
"It's only about them. It's only about an exquisite, finest of quality portrait that will bring pride and joy to my subject's family." - Constance S. Hudson